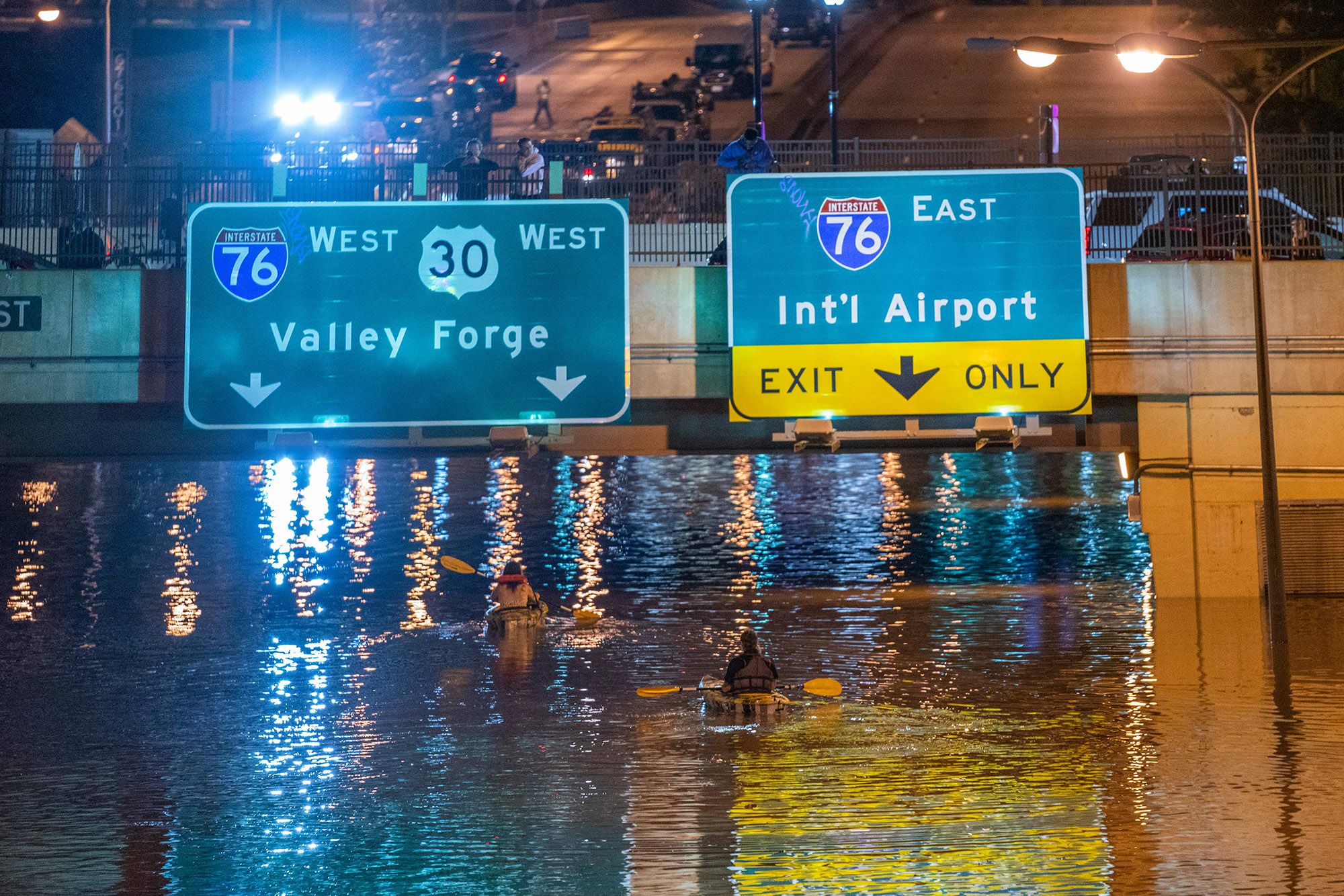 25% of Infrastructure Under Flood Risk in 30 years; FEMA Wants Input on Standards
Just as new research shows that a fourth of the critical infrastructure in the U.S. – along with an increasing number of homes and businesses – are at
News Source: Insurance Journal
Author: William Rabb
Date: October 13, 2021
Just as new research shows that a fourth of the critical infrastructure in the U.S. – along with an increasing number of homes and businesses – are at risk of flooding in the next 30 years, FEMA is seeking public input on floodplain standards and regulations.
And U.S. Sen. Rick Scott, R-Florida, has joined other lawmakers in introducing legislation that would overhaul the "broken" flood insurance program and private markets.
"It's time to make common-sense reforms that better serve Florida families," Scott said in a statement.
While more communities around the country have faced flooding in areas outside the Federal Emergency Management Agency's 100-year flood zone, a new report warns that flooding will only get worse in coming years. Yet, outside the designated flood zone, only about 2% of U.S. properties have purchased flood insurance, research has found.
Low-lying coastal areas, particularly those in Florida, Louisiana, Texas and New Jersey, are most vulnerable to the rising waters, said the report by First Street Foundation, a non-profit group that studies flood risk.
The group said it has taken a new approach to examining flood potential in the U.S., using a wide range of data to better predict flooding that is driven by climate change, more rainfall in some parts of the country, and other factors. Data showing flood risk at the street level is now available on the First Street website and has been linked to Realtor.com, something flood insurance advocates have applauded. Users can put in an address and seek the risk level.
First Street's latest research report, "Infrastructure on the Brink," released this week, shows that about 25% percent of U.S. critical infrastructure, including airports, hospitals, police stations, ports, power stations and roads, are at risk. The takeaway is that even if a home escapes water damage, public services, utilities or health systems may be shut down or become inaccessible after a flood event.
"The United States is ill-prepared for the extreme weather now becoming common due to our changing environment, evident by the flood cataclysms that wrought destruction to much of the country in the past decade," the report said. "Impacts of extreme flooding exceed the speed American communities can fortify themselves. Identifying vulnerabilities at a local level is required to brace for climate extremes, preventing further destruction."
The flooding in the next three decades is predicted to inundate some well-known coastal areas, including parts of Miami and Tampa. But other areas not historically associated with high risk levels are also vulnerable, the report said. Wakulla County, south of Florida's capital city, for example, will see the greatest increase in risk in the state, with 17% more residential property likely to be flooded. That's another 2,067 homes that are vulnerable.
Nationwide, Washington County in coastal North Carolina, ranked as having most significant increase in flood risk, First Street calculated. The county will see a 100% increase in critical infrastructure flooding, a 51% increase in residential flooding and a 32% increase in road flooding.
Meanwhile, FEMA has issued a request for comment on the NFIP's proposed changes to floodplain management standards and regulations – the first major update since 1976. New regulations are aimed at making communities safer and more resilient and would become part of the standards that communities must meet as a condition of federal flood insurance, FEMA noted. The agency also is seeking input on how the NFIP can minimize adverse impact to threatened and endangered species and their habitats.
The request for information came in response to a petition filed by the Natural Resources Defense Council and the Association of State Floodplain Managers. Comments can be submitted through the Federal rulemaking portal, found here. The docket ID is FEMA-2021-0024. Comments will be accepted through Dec. 13.
As the country wakes up to the new reality of more-frequent extreme weather events, the whole issue of flood insurance is in flux. FEMA has unveiled a new Risk Rating 2.0, which utilizes much more data to determine a property's flood risk, well beyond the flood-zone-only approach. Some properties are expected to see a decrease in premiums, while others should see an increase, analysts have noted. New National Flood insurance policies sold after Oct. 1 are now subject to the new methodology. Policies that renew after April 1 will be governed by the new approach.
But a number of Congressmen from vulnerable states are urging that the rating system be put on hold, noting that many homeowners will see much higher premiums.
"The NFIP is not only buried in debt, it's now pushing huge rate increases through FEMA's new 'Risk Rating 2.0′ that is unsustainable and unaffordable for Florida families," Sen. Scott said last week.
Florida's other U.S. senator, Marco Rubio, along with Sen. Bob Menendez, D-New Jersey, and Sen. Bill Cassidy, R-Louisiana, also have called for a delay in implementing 2.0.
Whether the new rating system is too painful has been hotly debated. Some analyses have said it will be more equitable and will discourage building in low-lying areas.
"Without this change, all NFIP policyholders would have seen increases to their premiums next year," wrote Laura Lightbody, the Pew Charitable Trusts' project director for flood-prepared communities. "But with Risk Rating 2.0, rates will drop for almost 1.2 million policyholders, providing relief for many who have been overpaying; in many areas, more than half of NFIP policyholders will see their rates decrease."
Federal law limits most NFIP premium increases to no more than 18% per year.
Scott isn't buying the changes. The former Florida governor has introduced three bills that he said would help fix the flood insurance picture, kick-start more private flood insurance policies, and encourage more property owners to purchase flood policies.
"They're good bills. We support these," said Jay Neal, chairman of the Federal Association for Insurance Reform and CEO of the FAIR Foundation, based in Florida.
Scott's proposals:
The Removing Barriers to Private Flood Insurance Act would eliminate NFIP's long-standing non-compete clause. The clause prohibits "write your own" companies from selling private flood policies that compete with NFIP products. Some insurers, under contract with FEMA, have been barred from offering surplus private flood insurance. FEMA changed that rule, and Scott now wants to codify it, Neal said. The number of private flood policies in Florida has, in fact, grown rapidly in recent years, but state regulators hope more will follow. An estimated five million properties in Florida are vulnerable but still have no flood insurance, private or NFIP, Florida's insurance commissioner said earlier this year.
The Flood Insurance Consumer Choice Act would remove what Scott and others have said is a major stumbling block. Because NFIP insurance covers only up to $250,000 in damages, some homeowners have switched to private carriers. If they switch back to NFIP at some point, they usually have to pay significantly higher premiums. Scott's bill would force the NFIP to treat those homeowners as if they had continuous coverage, without adding the re-entry surcharge.
The Flood Insurance Transparency Act. Under current rules, the loss history of many properties is not accessible. Computer models show projected flooding areas, yes, but previous, actual losses are often hard to find. Scott's bill would require FEMA to make detailed historic claims, along with policy and flood risk data, readily available to the public, while protecting personal information. That could encourage more prospective homebuyers to steer clear of soggy property or to buy more flood coverage.
Scott and Sen. Mike Lee, R-Utah, have introduced other bills they say would improve the flood insurance marketplace.
It will take more than legislation to convince more people to sign up for flood insurance, though, advocates say.
For starters, many property owners and prospective buyers simply aren't aware that a home is in a vulnerable area.
"Realtors are afraid of telling people that," Neal said. "And insurance agents tell them they don't need flood insurance. We've got to get them to understand" that it's in everyone's interest to know flood risks, he added.
A peer-reviewed research paper published this month found that inconsistent information about flood insurance exists in parts of the country, and some communities have higher take-up rates on policies than others. In some areas where flood insurance acceptance is particularly low, "targeted efforts" may be needed to raise awareness and purchases, said the paper in the Journal of Environmental Economics and Management.