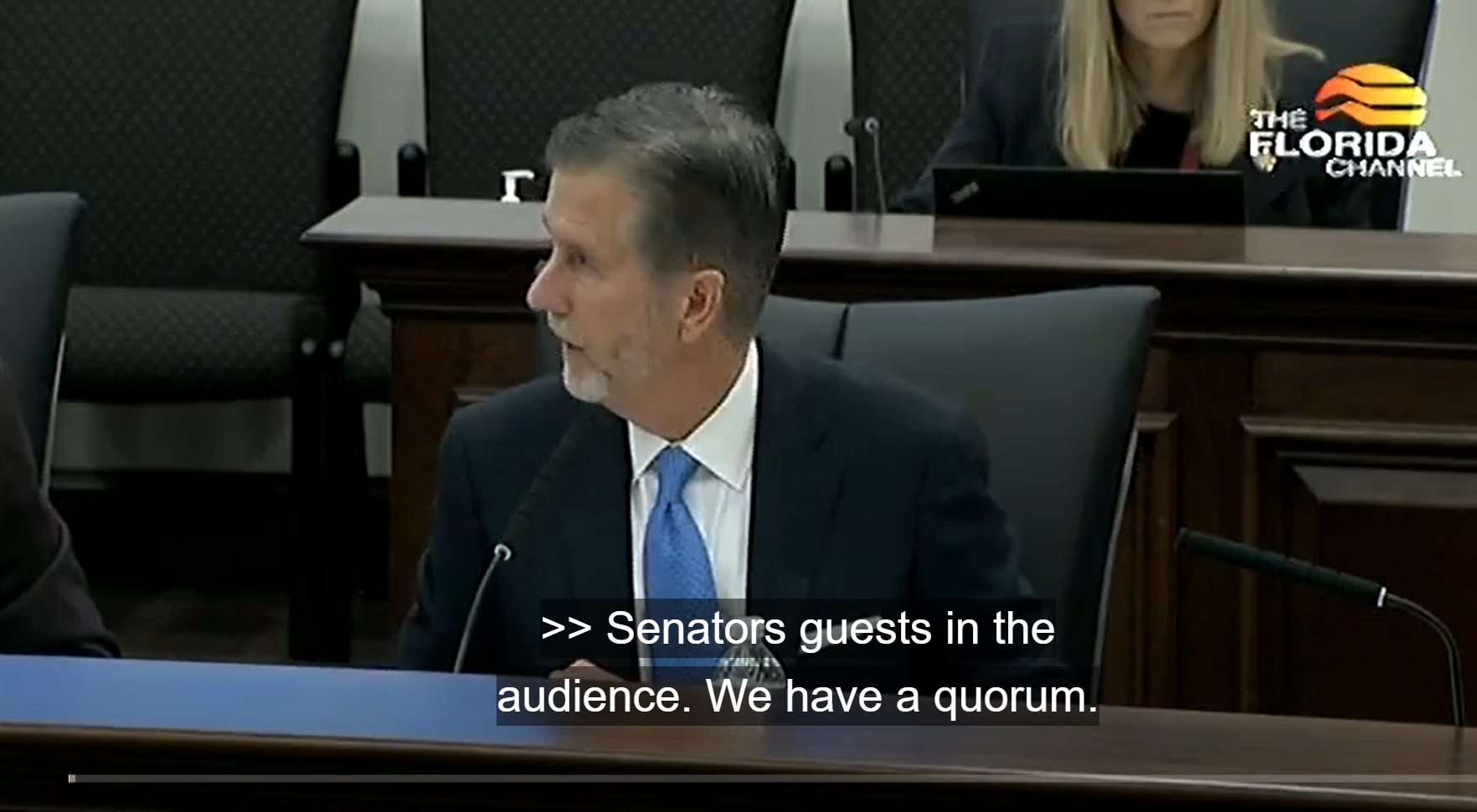 Florida Senate Committee Passes Reform Bill; Would Make Citizens 'Noncompetitive'
A Florida Senate Committee spent about two hours Monday reviewing a sweeping property insurance reform bill before approving it along party lines – with
News Source: Insurance Journal
Author: William Rabb
Date Published: December 13th
A Florida Senate Committee spent about two hours Monday reviewing a sweeping property insurance reform bill before approving it along party lines – with no changes.
All nine Republicans on the Senate Banking and Insurance Committee voted in favor of Senate Bill 2A, authored by committee chairman, Jim Boyd, R-Bradenton. All three Democrats voted against it, saying it would make it harder for policyholders to fight large insurance companies when their claims are denied.
The bill and its House companion, HB 1A, now appear set to pass the full Senate and the House, with Florida's second special session on the insurance crisis this year coming to a close as soon as Wednesday.
The legislation, which would end one-way attorney fees and assignment-of-benefits agreements, has met with strong support from the insurance industry. But it also has generated questions about other provisions, including a major shift in policy on Citizens Property Insurance Corp. rates. Those questions may not be answered until months after the bill becomes law.
For starters, SB 2A sets up a state-backed reinsurance plan designed to offer insurers a low-cost alternative to the soaring prices found on the private reinsurance market. But some experts are now questioning who will monitor the program and, crucially, whether it will actually save insurers money.
The Florida Optional Reinsurance Assistance, or FORA, program, as it is named, would offer coverage for the layer of reinsurance for the $5 billion below the attachment point for the Florida Hurricane Catastrophe Fund. That Cat Fund attachment point is expected to be about $9 billion in 2023. The premiums for FORA would be 50% to 65% rate on-line, SB 2A dictates. (Rate on-line, according to the International Risk Management Institute, is calculated by dividing the reinsurance premium by the reinsurance limit).
But the FORA prices could end up being close to or even slightly higher than the private market, despite huge increases in the last two years from U.S. and international reinsurance firms, explained John Rollins, a former actuary and chief financial officer for a Florida insurer. And the upper layer of reinsurance is not the problem. It's the layer below that that has become so expensive to place.
"So, the question is, if the state offers this FORA coverage between $5 billion and $9 billion, would it actually get any takers?" he asked. "Because the price they're proposing to sell it at is likely to be above 2023 market prices."
Instead of a ceiling on reinsurance prices for that layer, FORA could prove to be a floor in negotiations with reinsurers.
A more elegant solution, Rollins said, echoing what a number of insurers and industry advocates have called for, would be to simply lower the Cat Fund's retention level, or deductible. That would allow insurers to access the fund's more affordable reinsurance sooner, in the event of a hurricane.
The executive director of the Florida Property & Casualty Association said that, in the end, the bill's other reforms – designed to curb runaway litigation costs – should be enough to loosen the reinsurance market.
"By proposing FORA, the Legislature acknowledged that reinsurers are not offering all the capacity needed under the Cat Fund attachment point," said William Stander. "Now, the Legislature — and domestic primary insurers — are hoping that the bills' unprecedented litigation reforms will be enough to bring reinsurers back to the table. It's in their laps now."
Barry Gilway, the CEO of Citizens, agreed.
"I'm highly optimistic that, should the bill pass in the proposed format, it will attract more capital to the market and eventually improve the reinsurance picture," Gilway said in a statement Monday.
Boyd explained in the committee hearing that FORA would be managed by the Cat Fund, and the reinsurance plan was devised with extensive input from fund officials. The bill notes that the State Board of Administration, which houses the Cat Fund, may inspect insurers to validate "the accuracy of losses required to be reported under the terms and conditions of the FORA reimbursement contract."
State Sen. Bobby Powell, D-West Palm Beach, seemed to suggest that the Cat Fund's watchdogs may not be independent enough keep the FORA program out of trouble.
"How many people are on that auditing committee as of right now that are appointed by the governor, the CFO and the attorney general?" Powell asked.
The Cat Fund's chief operating officer explained that the audit committee is appointed by the SBA's board of trustees.
SB 2A also directs a sea-change in Citizens Property Insurance rates, mandating that they return to pre-2007 policy of being "noncompetitive" with private insurers' rates.
Many insurers and insurance agents have said higher premiums are appropriate for a government-backed insurer of last resort. And studies have shown that Citizens' rates in many parts of the state are currently well below other carriers, partly because many private insurers have asked for and received hefty rate increases in the last three years.
But the exact method for determining Citizens' proposed new rates remains unclear, especially while the insurer's premium increases are limited by a statutory "glide path" to no more than 12% in 2023 and up to 15% in 2026.
The bill stipulates that Citizens' rates must be "actuarially sound" but also not competitive with the admitted market. When asked if the bill's enactment into law would mean that Citizens' rates will eventually rise above all other carriers, a spokesman for Citizens said Monday evening that "the glide path remains intact."
The bill leaves it mostly to the Florida Office of Insurance Regulation to determine exactly what noncompetitive rates will look like. Comparing individual policies' premiums may be feasible, but setting a rate for Citizens across the entire state, with multiple policy exclusions, wind conditions and other factors, could require a massive computer system, Rollins said.
"I think it's a good idea to return to that (noncompetitive) public policy if you want Citizens to be smaller," he said. "However, the implementation of a noncompetitive standard is going to be quite complex in today's rating plans." The devil is in the details, Rollins noted.
A simpler plan would be to let Citizens' rates become fully, actuarially sound, without strings attached. That could mean steep rate increases for thousands of Florida homeowners, but could also rejuvenate the private market by forcing more policyholders away from Citizens, which this year became the largest carrier in the state.
At the Senate hearing Monday, one Democrat argued that Florida insurers' troubles have little to do with Citizens' rates, litigation, or reinsurance costs.
"We have insurance companies that operate as subsidiaries in the state of Florida and send the money out of Florida, then claim that they are insolvent," said state Sen. Geraldine "Geri" Thompson, D-Orange County, echoing what other Democrats said at the first 2022 special session in May.
"They pay their executives millions of dollars. Until we deal with that, we're really not solving the insurance problem," she added.
Thompson was likely referring to a Tampa Bay Times and Miami Herald article posted this week that showed that some insurance company CEOs were paid millions of dollars in salaries and bonuses in recent years, even as the carriers struggled financially.
The House Commerce Committee is scheduled to meet on the House version of the reform bill Tuesday at 9 a.m.